THAILAND
Thailand is the tourism hot-spot of Southeast Asia. This world-class destination features dream beaches, spectacular islands, amazing dive spots, an ancient Buddhist culture that is still very much alive today, exotic wildlife, and some of the best shopping, hotels, bars and restaurants in the world.
Thailand is truly at the heart of the region. Thailand has always been one of the most popular choices of holiday destinations worldwide.
However Thailand is framed by tectonic plate boundaries.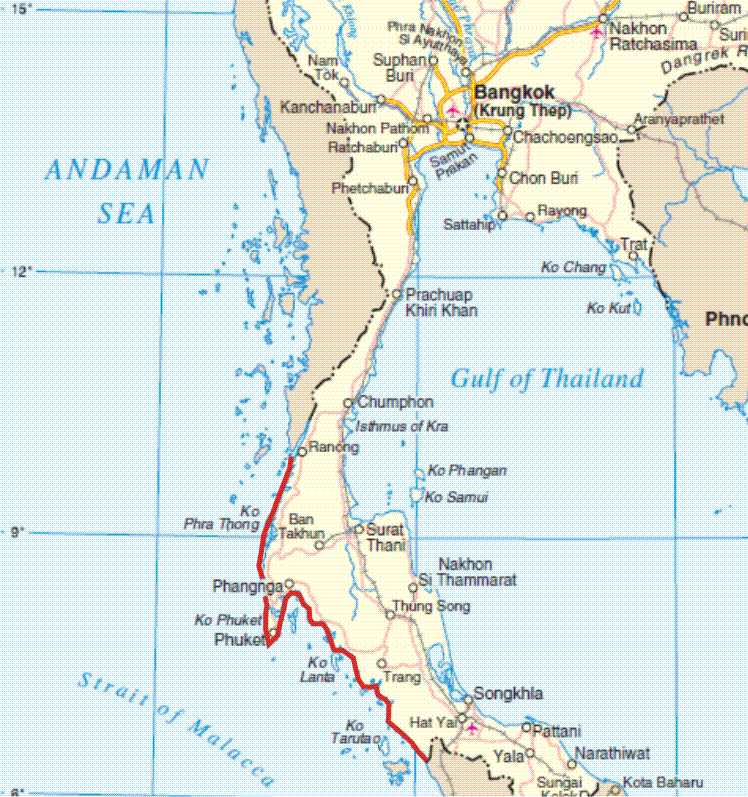 The Western coastline of Thailand [marked red] has a high tsunami risk
The 2004 Asian tsunami created massive damage and claimed countless lives - especially along the Western coastline with tourism hotspots such as Phuket, Krabi and Phang Nga hard hit.
The tsunami also took one of Thailand's royal family members as its victim; Bhumi Mahidol Jensen, the grandson of King Bhumibol Adulyadej while at vacation with his family in Southern Thailand.
The most likely tsunami source for the Thai coastline is situated towards the Northwest of the Indonesian island of Sumatra. That means that Thailand has more time to react to this threat than its western neighbor Indonesia. However time is of the essence.
Thailand operates a sophisticated tsunami early warning notification service consisting of public sirens and sms alerts. The media also plays an important role.
To date no hotel in Thailand has been 'Tsunami Ready' certified. However we just started a program in Phuket. Please follow us on Facebook for updates and the latest developments.
Enjoy your holidays in amazing Thailand, Sawatdee Khrap!
Wonderful Railei Beach