INDONESIA
Indonesians lovingly call their country -Tanah Air- which translates to -Waterland-. Hardly anywhere else in the world is it possible to explore such an endless variety of water bound activities from diving to sailing, fishing, surfing or just relaxing at its beaches. The choices are overwhelming. No wonder Indonesia brands itself quite rightly as -Ultimate in Diversity-.
Because of her location, and geology, Indonesia is blessed with the most diverse landscapes ranging from the fertile rice paddies of Java and Bali to the ancient rainforests of Sumatra, Kalimantan and Sulawesi, to the savannah grasslands of the Nusa Tenggara peaking in West Papua with snow capped mountains and glaciers.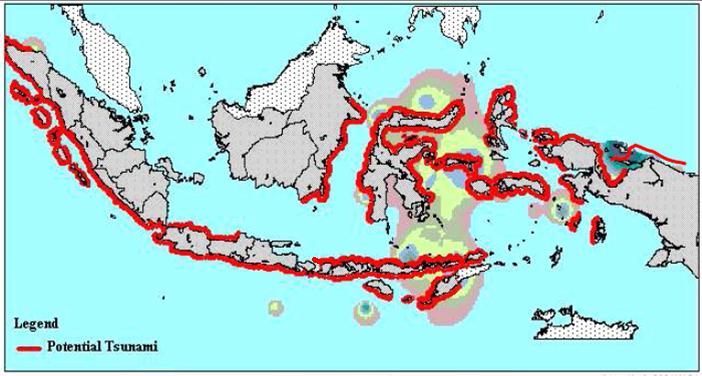 75 % of Indonesia-s Coastline will sooner or later be effected by a tsunami
However the countries variety comes at a price. Indonesia is located on the -Pacific Ring of Fire-. Indonesia-s location on the edges of the Pacific, Eurasian, and Australian tectonic plates makes it the site of numerous volcanoes and frequent earthquakes. Indonesia has at least 150 active volcanoes. Its location on a subduction zone comes with a severe tsunami hazard. The devastating Asian tsunami that occurred on December 26, 2004 , killing over 230.000 people was triggered by a mega thrust underwater earthquake off the coast of Aceh/Indonesia.
Tsunami early warning times in Indonesia are extremely short and range between 15 to 35 minutes from a tsunami triggering earthquake to the arrival of the first wave. That is why it is especially important to be well prepared to mitigate and react to the tsunami threat in the most efficient and targeted way. There is no time to waste once the warning is out.
The tourism industry in Indonesia, especially on the resort island of Bali is aware of this challenge. Bali Hotels Association [BHA], an association of over 100 star rated hotels is a strong supporter of -Tsunami Ready-, many tsunami procedures were developed in cooperation with its members. The Indonesian Ministry of Tourism is another important partner.
Selamat jalan di Indonesia!